Nick found this webiste (Texas Department Of Criminal Justice)
http://www.tdcj.state.tx.us/stat/executedoffenders.htm
Pretty morbid, but it shows you all the men who have been executed in the state of Texas since the 80's. It also shows you exactly what their last statement was and what they were convicted for. Crazy what you can find these days pn the interent.
The day I turned 18, this guy was exectued.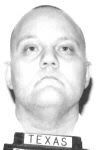 "Yes sir, Warden Okay I've been hanging around this popsicle stand way too long. Before I leave, I want to tell you all. When I die, bury me deep, lay two speakers at my feet, put some headphones on my head and rock and roll me when I'm dead. I'll see you in Heaven someday. That's all Warden."
- Douglas Roberts (executed on 20 April 2005)